European tourists continue to prefer Turkey for vacation
BETÜL ALAKENT
ISTANBUL
PublishedMarch 29, 2017 in Daily Sabah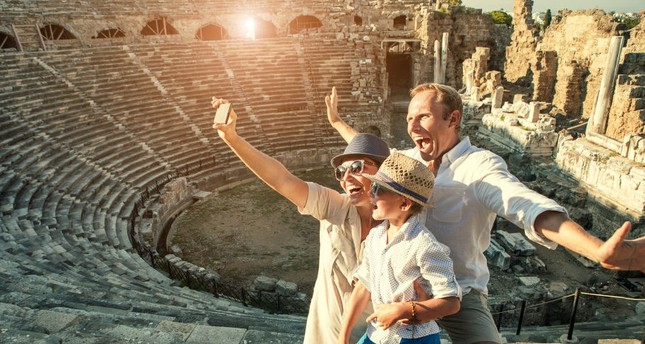 A family taking a selfie in antique amphitheater in Side, a resort town on Turkey's southern Mediterranean coast.
Regardless of recent tensions between Turkey and some EU countries, European tourists continue to prefer Turkey as a popular holiday destination with the number of bookings from Germany, the U.K. and the Netherlands on the rise.
Major actors in the country's tourism sector have also foreseen an increase in last-minute sales.
European tourists coming to Turkey have seemingly been unfazed by last year's string of terror attacks, efforts to devise a negative perception of Turkey and anti-democratic prevention of Turkish ministers' events in Europe as well as the electronic device ban on Turkish Airlines flights. Thomas Cook, one of the world's prominent tour operators, previously reported that European tourists were heading back to Turkey. Burak Tonbul, a board member of TÜRSAB (Association of Turkish Travel Agencies) and general manager of Thomas Cook's Turkey Representative, Diana Travel, said bookings for Turkey increased by 40 percent in February, compared to the same month the previous year.
Acknowledging that though reservations had slowed in the first week of March due to tension with Europe, Tonbul said bookings were up once again over the last week, particularly in the German and British markets.
Underlining that the electronic device ban implemented by the U.K. will not affect demand, Tonbul said, "The British won't stop coming to Turkey just because children won't be able to watch cartoons on iPads in flight."
Meanwhile, Culture and Tourism Minister Nabi Avcı said that they have launched a huge promotion campaign in Europe.
Avcı claimed that a recent European survey showed that tourists, who traveled to Greece and Spain instead of Turkey last year, were not satisfied with the service.
"They had the opportunity to compare Turkey with other destinations. Turkey is way ahead of its competitors in terms of facility, services and price," said the minister.
Bookings from the Netherlands gain momentum
Yıldıray Karaer, founding partner at Corendon Tourism Group, which brought more than 60 percent of all Dutch tourists to Turkey, said that the Dutch market was also gaining momentum.
Karaer said that though reservations had stalled for a short while after a diplomatic row between the two countries, following an anti-democratic stance by the Netherlands, the situation has improved. "There has been some serious mobility in regards to reservations over the last two weeks. Unless there is a negative development, I think serious shares will come from last-minute sales, especially in June and July. Our goal is to close the year without any loss and match last year's figures."
Hotel Association of Turkey (TÜROB) Chair Timur Bayındır said that positive comments from Thomas Cook were promising.
"To break any negative perceptions about Turkey, we are participating in different fairs around the world. We're trying to inform them about the truth," he said, suggesting that European tourists were also aware of the advantages of travelling to Turkey.